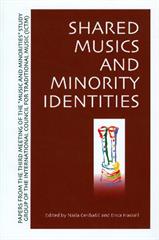 Autor:
Naila Ceribašić & Erica Haskell, ur.
Nakladnik:
Institute of Ethnology and Folklore Research – Cultural-Artistic Society "Istarski željezničar"
Shared Musics and Minority Identities: Papers from the Third Meeting of the "Music and Minorities" Study Group of the International Council for Traditional Music (ICTM), Roč, Croatia, 2004. Zagreb – Roč
Zbornik "Dijeljene glazbe i manjinski identititeti" sadrži radove s Trećeg skupa Studijske skupine "Glazba i manjine" Međunarodnog savjeta za tradicijsku glazbu (ICTM), održanoga u Roču 2004. godine. Teme su skupa bile: 1. Višestruki identiteti i upravljanje identitetom u glazbi ma nji na, 2. Emsko i etsko u odnosu na glazbu manjina, 3. Marginalnost, osna ži vanje i primijenjena etnomuzikologija. No, ideja dijeljenja nametnula se kao središnja nit, dijeljenja koje pokriva spektar od razdvajanja, podjela i različitosti do spa janja, srodnosti i zajedništva. Potanje, riječ je o dijeljenju identiteta unutar ili onkraj pretpostavljivo čvrste etničke skupine, dijeljenju glazbi među razli čitim etničkim skupinama i prijeporima dijeljenja između istraživača (i drugih znalaca) i istraživanih. Sukladno tomu strukturiran je i redoslijed članaka u ovome zborniku. Svi su članci na engleskom jeziku sa sažecima na hrvatskom. Zborniku je pridružena i kompaktna ploča sa zvučnih zapisima vezanima uz pojedine članke.