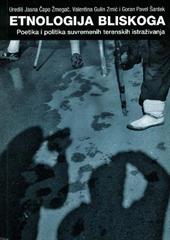 Autor:
Jasna Čapo Žmegač, Valentina Gulin Zrnić & Goran Pavel Šantek, ur.
Nakladnik:
Institut za etnologiju i folkloristiku
Cijena: – kn
Etnologija bliskoga: Poetika i politika suvremenih terenskih istraživanja
Doprinos znanstvenom razvoju ovoga zbornika leži u činjenici što istodobno demistificira istraživački posao kao samozatajan i koherentan rad te pokazuje slojevitost i isprepletenost teorije i prakse, koja se kod svakog autora može rasplesti u jedinstven pristup. To će svakako rezultirati živom polemikom stručne javnosti oko pojedinih pristupa, ali zar to nije cilj svakog urednika – napraviti životan i potentan zbornik koji nadahnjuje, ali i provocira. Od ovoga zbornika će višestruke koristi imati i studenti etnologije, ali i oni koji žele koristiti etnografski pristup istraživanjima, koji već u tijeku svoga studiranja moraju na "teren", ma što god to značilo. Ta se višestrukost ogleda u činjenici da je to prva takva knjiga na hrvatskom jeziku pisana od strane domaćih stručnjaka, da ih upoznaje s pojmovima i, što je još važnije, s mnogobrojnom literaturom koja upućuje na daljnje čitanje te ih senzibilizira na istraživanje suvremenosti i bliskosti.